"Besides, with money a woman has at her disposal every aid and accessory to Beauty, and she must be particularly plain indeed if she cannot buy for herself some claim, however fragile, to good looks."
-Doris Langley Moore,
The Technique of the Love Affair
Nowadays, with oceans of hyped-up beauty products and treatments available, marketers trill that there are no more plain girls, only lazy girls. Some of them might as well mean "only poor girls", as they then proceed to shill $200 thigh creams and $50 eyeliners, because "they make all the difference!" What's a girl on a budget to do--sacrifice her life's savings to the beauty industry?
In this instance, if not every instance, she might listen to Becky Bloomwood of
Confessions of a Shopaholic
fame: "Prioritizing. If you can save on one item you can splash out on another. That's the first rule of financial management. As I learned at financial journalism school."
Those who gobbled up that delectable series will know that she didn't exactly go to "financial journalism school", but the essence of that statement applies in the day of the recessionista. See what beauty products you might be able to skimp on, and which might be worth the splurge.
Cosmetics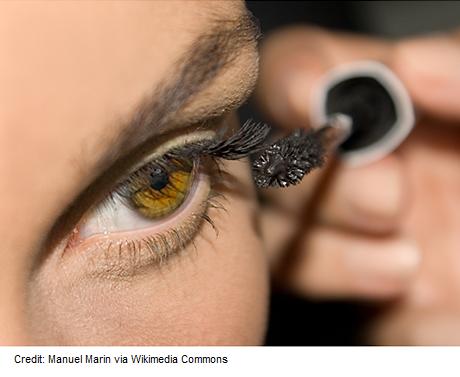 "On Fridays, Momma...would sit at her dressing-table to meticulously apply make-up. And I, so eager to learn, drank in everything she did to turn herself from just a pretty woman into a creature so ravishingly beautiful she didn't look real. The most amazing part of this was our father thought she DIDN'T wear makeup! He believed she was naturally a striking beauty."
-V.C. Andrews,
Flowers in the Attic
There's a thrilling coming-of-age milestone in a teenage girl's life. It's visiting the local drug store and buying your first make-up. Perhaps it was glittery pink Wet'n'Wild, or Bonne Bell Lip Smackers in some exotic flavor, like vanilla or Dr. Pepper's. Eventually, many upgrade to expensive bottles of foundation that cost more than a week's worth of groceries.
It may be worth exploring the drug store aisle again. For example, if you like cream blushers, there's no reason to go luxe. L'Oreal True Match comes in $10 bottles, and blend just as smoothly as the brands that go for several times that. Powder blushers, on the other hand, do tend to be finer, almost silky in quality and more richly pigmented when you go upscale. (CoverGirl Cheekers, on the other hand, were a Glamour Magazine pick for lasting eight hours--not bad for $3.50!)
But invest in a good set of make-up brushes with natural bristles. They're more expensive than the synthetics, but will pay off with a more polished look. Dooce showcased an elegant platinum Sephora collection that went for $50 a brush, but make-up artists also rave over She Uemura brushes. Look out for sales and online discounts, and clean and care for the brushes so they'll last.
Complexion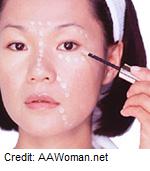 "Once she asked me gravely, 'Will I have a lovely creamy skin like yours when I grow up, Miss Shirley, if I put buttermilk on my face every night?' Buttermilk seems to be the preferred cosmetic in Spook's Lane."
-L.M. Montgomery,
Anne of Windy Poplars
Even better than a flawless face of make-up? Not needing it by having naturally clear skin. Nowadays, strong competition in the beauty market means you can nurture your complexion and your wallet at the same time.
"Moisturize, moisturize, moisturize!" is the mantra of skin care, but that doesn't mean you need to spring for Glo Therapeutics GloPure Hydration Facial Serum ($44). Stretch your dollar by choosing a moisturizer with built-in sunscreen, like Olay's Complete UV Defense (just $6!).
As for facial cleansers, they are essentially soap, and why break the bank for expensive ingredients that are meant to be rinsed off? Cetaphil can be found at nearly any drugstore or supermarket, and is gentle enough for all but the most sensitive complexions.
Exfoliation doesn't have to be done to the tune of $225 with Bliss Spa Crystal Clearing facials. St. Ives Apricot Scrub is just as effective and is widely available. If you just can't live without microdermabrasian treatments, don't turn up your nose at-home kits from Avon or Mary Kay, which are very effective.
For even more savings, you can make your own facial masks with simple recipes from sites like MakeYourCosmetics.com and SavvyMiss.com. VegFamily.com features some organic DIY facials, especially for pregnant women who want to stay as toxin-free as possible.
Anti-Aging Treatments
"There was not a line on her forehead or under her hazel eyes, and though her skin had lost the fresh bloom of extreme youth, its texture was as fine as ever; it obviously owed something now to lotions, creams, and massage, but they had given it a soft, transparent delicacy that was singularly attractive."
-W. Somerset Maugham,
The Razor's Edge
Anti-aging face creams may be worth splurging on for the technology and concentration of powerful ingredients like alpha-hydroxy acids, but Olay's High Definity line is a strong contender for anything you'll find in the department store. Also, Olay's Regenerist night recovery cream feels so glorious that it's worth a special shout-out.
That said, many women have a special relationship with their anti-aging regimens. There was a recent scandal about Crème de La Mer, which, despite its staggering $900-per-pot price tag, was reported to cost no more than $20 to make, and contain no ingredient you couldn't find in the drugstore aisle. Despite this, a surprising number of women declared that research be damned, their overpriced jars of Crème de la Mer would have to be wrenched from their cold dead hands. Love is love.
But whatever you use, don't waste it as so many women do, by pouring dollops into your palms before applying to your face. Dab just what's needed on your forehead, cheeks, etc., and an expensive jar will go a long way.
That said, the best way not to age? Sunblock.
Sunblocks, Tanning, etc.
"She was one of these jolly, outdoor girls; and Wilfred Mulliner had told me that what attracted him first about her was her wholesome, sunburned complexion…
"It's such a pity," said Miss Purdue, "that sunburn fades so soon. I do wish I knew some way of keeping it."
Even in his moments of holiest emotion Wilfred never forgot that he was a business man.
"You should try Mulliner's Raven Gipsy Face-Cream," he said.
-PG Wodehouse,
A Slice of Life
Sorry, sun-worshippers, but to preserve smooth, radiant skin, you need a shield of sunblock (generously applied and regularly re-applied) between you and the sun. Cellex-C sunblock has gotten a lot of attention for its high concentration of Vitamin C, but the Neutrogena Active Breathable line is a good, cost-effective substitute. (Just remember to apply enough! Applying a stingy amount of SPF 45 is like using SPF 15, and forgetting to reapply is like using nothing at all.) And don't forget your neck and hands! Most many women stop at the jawline, but the neck and hands age fast and should be protected.
Also, even if you don't like the way they look, buy and wear a cheap pair of sunglasses (with full-spectrum protection) to protect the delicate area around your eyes.
There's no such thing as a healthy tan, but if you can't live without bronzing, self-tanners will give you the look without the damage. Clarins Self-Tanning Lotion is $30, but Jergen's Natural Glow is a bargain at $6. (Never confuse a bargain item with a cheap one. As the mighty Manolo of Shoeblogs.com puts it, "The cheap item is the cheap item at any price.")
Has the damage already been done? The Acqua di Parma Blu Medeiterraneo Face & Body Repairing Concentrate is $61 and promises to soothe sunburn, but stick with the basics and go with aloe.
Hair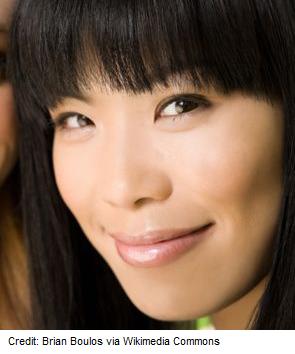 "Genius is of small use to a woman who does not know how to do her hair."
- Edith Wharton,
The Touchstone"You must brush your hair a hundred strokes every night before you go to bed," said Ma. "I had lovely long hair when your Pa and I were married. I could sit on the braids."
-Laura Ingalls Wilder,
By the Shores of Silver Lake
Now that most of us wash and condition our hair every day, Ma's hair care tips are as dated as her advice on waistlines ("You should sleep in your corsets, Laura. When I was married, your Pa could span my waist with his two hands."). Rather, now experts caution against over-brushing. Still, when you do brush, don't bother springing for a luxurious pearl-tipped brush set. A ConAir's brush will do the job (and won't break your heart when you inevitably leave it at a hotel). Spend the money you saved on a flattering haircut, and/or regular trims to ward off split ends.
Skimp on the shampoo (it's basically soap, after all) and splurge on the conditioner. One could go all the way with the Kerastase variety that goes for $58 a jar, but the average girl will find plenty of gloss and silkiness from Finesse.
Caveat: Some experts advise the other way around--skimping on conditioner and splurging on shampoo, for fear of harsh drugstore shampoos stripping hair of moisture. If your hair has been colored or otherwise treated, try Johnson & Johnson's baby shampoo, which should be gentle enough for even the most damaged hair.
Leave-in conditioner is a splurge, but might be worth it if your hair needs a little extra papmpering. BioSilk Silk Therapy is expensive but goes a long way, especially if you reserve it for the ends. Your roots usually won't need it.
And yes, we know there are pros who swear by T3 Bespoke Featherweight Dryers (a whopping $200 apiece), but if you're on a budget, pick up a generic type and use it wisely. (Never too long in one spot, never too long at all, period.) Better yet, air dry once in a while, especially if you're a regular user of irons. Heat weakens hair.
A final note—when you buy barrettes, no matter the price point, test any clasps and catches by jiggling. If any part of it is loose, it will catch and break your hair.
Lips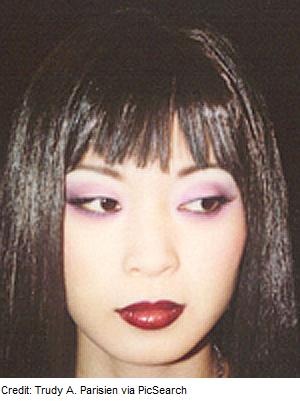 "A man had given all other bliss
And all his worldly wealth for this--
To waste his whole heart in one kiss
Upon her perfect lips."
- Lord Alfred Tennyson,
Sir Arthur & Queen Guinevere
Can you really tell the difference between a $30 lipstick and a $3 lipstick? Try them both and you'll find that most people really can't. And anyway, color trends come and go so fast that unless you're a lipstick aficionado, it's hardly worthwhile to get YSL or Dior.
You may not know that lip gloss actually heightens sun damage, while lipstick offers some protection. This may or may not make you switch sides if you're a gloss-only girl, but if you're one of the devotees who need Chanel lipstick, it may help you justify the cost!
But don't bother with the MAC lip refinishers to smooth flaked lips--a toothbrush does the trick and doesn't cost $14.50.
Eyelashes & Eyebrows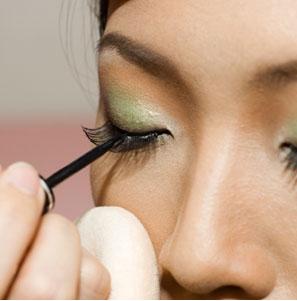 "Anne thought it was her eyelashes that did the trick, for she was not really pretty. They were unbelievably long and when she lifted them and dropped them it did things to masculine hearts."
-L.M. Montgomery,
Anne of Ingleside
Mascara should be replaced every few months for sanitary reasons, so don't bother with anything overly pricey. Spies at Fashion Week in Bryant Park reported that all the make-up artists were carrying Maybelline's Great Lash (you've seen them at Duane Reade--pink bottles with green caps), which go for about six dollars. Model Elyse Sewell blogged that Great Lash XXX is becoming more popular. If it's good enough for the girl who told Tyra Banks "It's not like a modeling contract is a basic human right", it's good enough for me.
While eyebrow pencils don't have to be expensive to be effective, eye shadow does tend to be smoother and finer at a higher price point. Pick up the inexpensive stuff for trendy colors, but you may want to spend a little more on the classics and everyday shades.
Brow gel is an unnecessary luxury. Vaseline or even lip balm does the job. A good pair of tweezers, however, can be a godsend (bonus if you get so good that you can skip professional waxing and threading).
Miscellaneous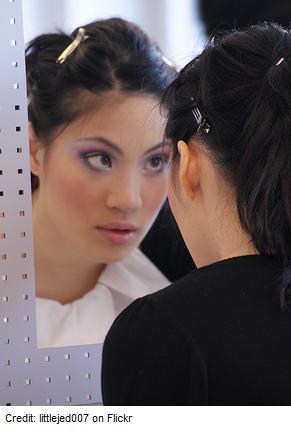 "You'll never look finished if you are not careful about the little details, for they make up the pleasing whole."
-Louisa May Alcott, Little Women
Skimp on…
Nail polish: Most of the drug-store stuff is plenty durable. And unlike some other kinds of makeup, the color you see in the bottle is usually what you get, eliminating the need to try it on in the department store. It's also not too difficult to find an approximation of a shade if, say, Chanel comes out with a limited edition color to die for, like its celebrated Ciel de Nuit. You could find a half-empty bottle on Ebay for hundreds of dollars, or do some old-school mixing and matching.
Hand creams: Jergens works beautifully. With hand cream, the most important thing is consistency, not price. As long as you're faithful with the stuff (especially after being out in the cold or washing dishes), a $3 tube of Jergens or Johnson & Johnson will do the job.
Teeth whitening treatments: Crest Whitestrips, while a little messy to use, deliver noticeable results for less than $30 a set. You can even whiten away while reading or watching TV, which also saves the time you'd otherwise spend sitting in the dentist's waiting room.
Splurge on…
Anything lasting, or foreseeably lasting, like piercings, tattoos, and permanent make-up. There are too many horror stories to not play this safe.
And bikini waxes. You're naked from the waist down, and someone is approaching one of the most sensitive areas on your body with hot molten wax. This is not the time to bargain-hunt.