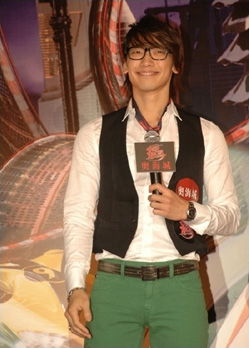 It's April 25 in Los Angeles, and it's Rain's press day for his U.S. film debut in
Speed Racer
. Although there was media attention from all over the world, Asian Loop got a chance to conduct a one-on-one interview with the Korean Superstar to talk about the film.
Based on the classic series by anime pioneer Tatsuo Yoshida,
Speed Racer
marks the Wachowski brothers' first writing/directing collaboration since "The Matrix" movies. The story follows the young man Speed Racer, who grew up with racing in his blood. His brother, Rex Racer, was a legend in the sport, but he tragically died during a race, leaving a legacy that Speed is determined to fulfill. His father, Pops, designs race cars, and he created the Mach 6, a car Speed takes to new heights in racing.
Rain plays the role Taejo Togokahn, the lead driver and heir to Togokahn Motors, one of the most prominent racing companies in the World Racing League. In the film, rival company Royalton threatens to corrupt the sport of racing and take over Togokhan Motors. Thus, Rain's character of Taejo must work with competing driver Speed Racer to defend his family honor against the billionaire Arnold Royalton.
"It's really well made and enjoyable," Rain says of his first Hollywood production, adding that everyone worked well together. He also loves that "the story is about hopes and dreams." He hopes that it will empower kids to reach for their own goals. Given his own humble roots and the hard work that drove his own success story, he strongly encourages children to believe in themselves.
Although Rain has previously starred in the Korean movie
I'm a Cyborg, But That's OK
, working on
Speed Racer
was a different experience for him. "Acting is acting," Rain believes, but he notices that "Hollywood has a stronger support system for the funding of its films." Movies made in Asia do not enjoy similarly large investments into their production. Therefore, working in a movie like
Speed Racer
, with its budget of $300 million, was a completely new experience for Korean actor.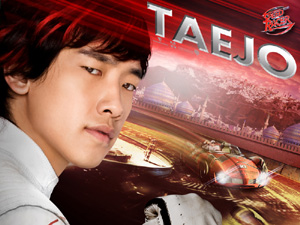 During the making of the film, the cast and crew became "like a family," according to Rain. This made the filming experience very enjoyable for the 25-year-old entertainer, though not always easy. Shot on location in Germany, the role required Rain to be in peak physical form and involved long hours performing in front of a green screen. And unlike many of the other actors in the film, Rain wasn't familiar with the original anime series. "It actually started before I was born, so I wasn't able to see it when I was young," admits Rain. So before the shooting began, Rain had to give himself a crash course on the show by catching up on old episodes.
Fans may wonder why Rain chose this role for his U.S. film debut. One reason he cites is his tremendous respect for the creators of the film, Larry and Andy Wachowski. "My trust for the Wachowski brothers was really deep. I was their fan," says the pop idol. Unlike
The Matrix
, which had a dark tone, The Wachowskis purposely made
Speed Racer
to be vibrantly bright and colorful. As a result, they achieved an almost magical world, what the brothers termed a "live-action anime look."
Immediately upon working with the directors, Rain recognized their powerful imaginations and amazing attention to detail. "They are geniuses," he comments. At the same time, he found them to be very friendly. It may be hard to imagine with a serious film like
The Matrix
to their credit, but Rain felt that the brothers were very approachable and "able to talk to you about anything."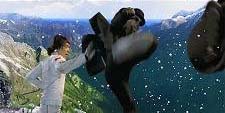 In order to achieve the Wachowski brothers' vision, cutting-edge photographic techniques and state-of-the-art computer-generated imagery were utilized. This meant many of the actors had to perform in front of a "green screen" to be combined with the proper backdrop afterwards. For Rain, this was a new experience. "Acting in front of the green screen was a great experience. It was my first time doing it. Since there was nothing in front of me, sometimes it was a little difficult. But overall, I had great fun," describes the actor. But his favorite part during the production was performing the action-filled racing scenes in the movie.
Rain's hard work on
Speed Racer
has not gone unnoticed. The Wachowski brothers have already offered Rain a role in their upcoming film,
Ninja Assassins
, slated to be released some time next year. It is an action/martial arts film that Rain is very excited about. Unlike in
Speed Racer
, Rain will play the lead role in that film, and he feels it is the type of role where he can leave an impression with the audience.
Given the physical nature of this new role, Rain is already hard at work training his body. The Korean sensation does have a head start though. "I already knew how to do Tae Kwon Do and Hap Ki Do, which is a traditional Korean Kung Fu," reveals Rain.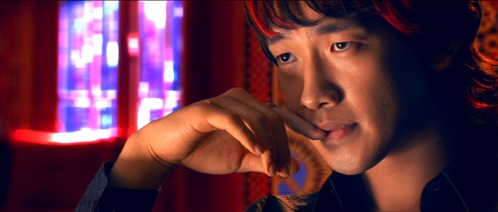 Not only is Rain a major television and movie star in Asia, but he also holds sold-out concerts all over the world (his concerts in Asia are notorious for selling out within hours). And even though his U.S. film career is already blossoming, he is not ready to confine himself to acting just yet. "I love to act, dance, and sing. I enjoy doing everything," says the versatile entertainer. He would like to do more concerts in the future, as well as star in another Korean series if the right part comes along. But for now, the superstar is just trying to take it one day at a time. Rain explains, "With
Ninja Assassins
right now, I am focusing more on acting. But after the movie gets released, maybe next year, I am slowly going to be picking up my album career as well."
Speed Racer
is set to open in theatres on May 9, but you can get a sneak peek of clips from the movie at
http://www.collider.com/entertainment/news/article.asp/aid/7652/tcid/1
. For more information about the movie, please visit the official website at
http://speedracerthemovie.warnerbros.com/
.
Asian Loop would like to thank Rain for taking the time to talk with us and Warner Brothers for coordinating the interview.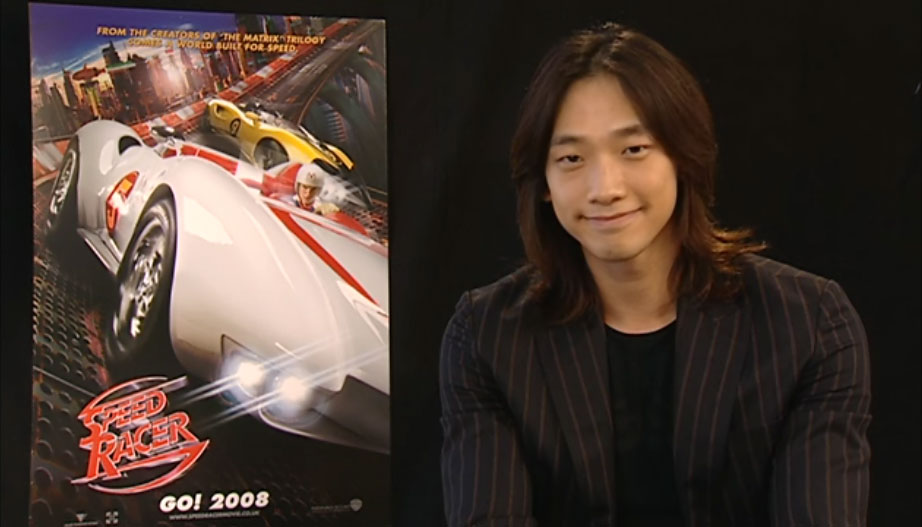 Watch a greeting from Rain: QuickTime format | Windows Media Format