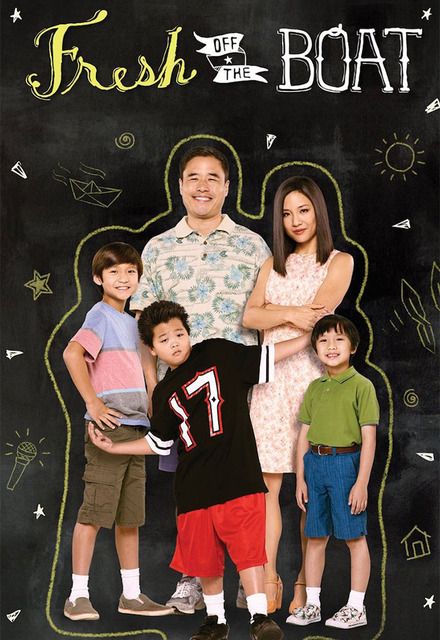 TV nerds like us already know that this will be the last season for a number of groundbreaking shows. For example, Modern Family broke the mold of the traditional family structure, and this will be the show's eleventh and final season. Similarly, Agents of Shield was the first Marvel series on television, and it will be airing its final episode this summer. Well, now there is one more show to add to the list. 2019-2020 will be Fresh of the Boat's last season.
The official announcement was made by the ABC network on November 8th. Here is an exerpt of that announcement.
Groundbreaking ABC comedy Fresh Off the Boat will conclude its critically acclaimed six-season run on ABC, Karey Burke, president, ABC Entertainment, announced today. The series, produced by 20th Century Fox Television, will wrap up with an hour-long series finale, FRIDAY FEB 21 8|7c. "We couldn't be prouder of this game-changing show and the impact it has had on our cultural landscape. The success of Fresh Off the Boat has helped pave the way for inclusion throughout the industry. Nahnatchka Khan and her brilliant creative team have created an unforgettable series with an Asian-American family front and center, something that hadn't been done in two decades. The cast, led by Randall Park and Constance Wu, is one of the finest and funniest on television. We'll miss the Huang family and are eternally grateful for the incredibly heartfelt stories they have told these past six seasons," Burke said.
"I'm so proud of the show and what we've accomplished over the past six seasons," said series creator Khan. "Thank you to everyone at ABC and 20th Century Fox Television for going on this ride with us. It was truly a special experience and hopefully will forever be a reminder of all the stories out there that deserve to be told. Like B.I.G. said, 'And if you don't know, now you know.'"
Fresh Off the Boat is set in the 1990's, and it centers around the Huang family. They move from Washington, D.C. to Orlando, Florida after the dad, Lewis Huang (played by Randall Park), opens up a steak restaurant there. Compared to D.C., though, Orlando is much more suburban with a much smaller Asian population (especially in the 90's). So the family has to get used to thier new environment. In addition to Lewis, the family consists of his wife Jessica (played by Constance Wu), their eldest son Eddie (played by Hudson Yang), the middle child Emery (played by Forrest Wheeler), the youngest son Evan (played by Ian Chen), and Lewis' mom Jenny (played by Lucille Soong). Living next door to the Huang's are their best friends Marvin (played by Ray Wise) and Honey (played by Chelsey Crisp).
Fresh Off the Boat never broke any ratings records nor is it the longest running show on TV. However, it was ground breaking in that this series was the first show with a primarily Asian cast in over 20 years. The last such show was Margaret Cho's All American Girl in 1994, and that show only lasted one season. Yes, Fresh definitely portrayed some Asian stereotypes, such as Jessica Huang being a tiger mom and some of the actors purposely speaking with an Asian accent. However, it also broke a lot of stereotypes, especially when it comes to second generation Asian Americans as depicted by the family's three boys. Over the past six seasons, we got to see them having to deal with issues regarding family, school, friends, and growing up in general. And such issues are universal regardless of your race.
This being the show's last season might actually be welcomed news for one of its stars, Constance Wu. Earlier in the year, when it was announced that Fresh Off the Boat would be part of the 2019-2020 television season, she seemed to react negatively on Twitter by tweeting "So upset right now that Im literally crying. Ugh. F**k." Since then, she has clarified that this is not because she didn't like the show. She just had to give up another project that she was excited about due to her commitment to Fresh.Since Wu's starring role in the hit movie "Crazy Rich Asians", it seems that there are now other opportunities that she wants to pursue.
It's unlikely that Wu's comments had anything to do with the show ending. Instead, the cancellation was probably due to the show's recent ratings. With the exception of WWE Smackdown on Fox and Dynasty and Charmed on the CW, Fresh Off the Boat has the lowest ratings of all Friday night network shows this season. (See graph.) In the seven episodes that the show has aired so far this season, it has only averaged 2.44 million viewers and a 0.5 rating among the key 18 to 49 demographic. Compared to last season, those numbers dropped by 22% and 25% respetively. So its audience has definitely dwindled down to a level where cancellation would be justifiable.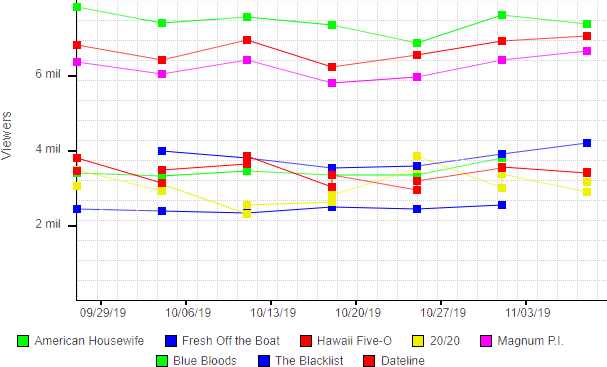 During the past six seasons, we have watched the Huang family grow up. The show has given us a glimpse into a Asian-American household as well as nostalgic moments from the 1990's. The series will end with a special one-hour episode on February 21st. Here's to hoping the Huangs will get a happy ending as Fresh Off the Boat signs off.