Wait 'Til You're Older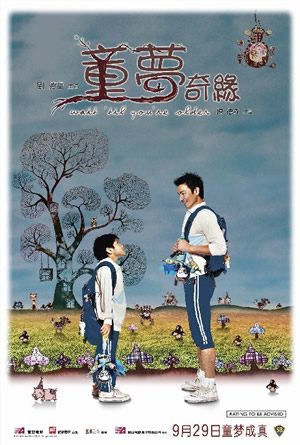 Wait 'Til You're Older (Chinese name - Tung mung kei yun), was first released in Hong Hong in 2005. In this movie, director Teddy Chan brings us a touching tale about a young boy who turns into an adult overnight. This is not an original storyline for movies. The blockbuster hit Big (1988) followed the same premise, as does the more recent 13 Going on 30 (2004). However, unlike those films, Wait 'Til You're Older goes deeper. In addition to exploring the boy's character, the film also takes a look at the characters who caused the boy to wish he was grown up in the first place.

The boy's name is Kwong (played by the young actor Sit Lap-Yin), and he lives with his father, stepmother, and stepbrother. He feels deep resentment towards the father and stepmother, because he believes they are responsible for his mother's death. Therefore, he is constantly running away and refuses to behave during the times when he's home. Although the stepmother, Min (played by Karen Mok), tries her best to treat Kwong well, Kwong's constant defiance greatly upsets her. And the father (played by Felix Wong) is caught in the middle of the constant tension.

Kwong desperately wishes he could grow up so that he can leave home and get away from his family. And thanks to an encounter with a mysterious old man, he gets his wish. No one recognizes Kwong as an adult (played by Andy Lau). Therefore, he takes the opportunity to assume a new identity as his classmate's older brother and interact with the people in his life as a adult.

As Kwong does this, it is like he is meeting these people for the first time, since he is only used to them treating him like a child. This new perspective allows him to see how overly complicated adult relationships can be. He also realizes that past events involving his family are not as clean cut as he once thought they were. And from that realization, Kwong finally comes to terms with his mother, father, and stepmother.

As you may expect with a plot such as this, Kwong soon regrets the way he behaved when he was young and wishes to be young again. But unlike other films following the same formula, Wait 'Til You're Older doesn't have the typical fairy tale ending you might expect.

One of the more interesting aspects of the movie is how the history of Kwong's family is revealed. Instead of being told directly, the audience is left to piece together exactly what happened to Kwong's mother through various conversations Kwong has as an adult. Even though this was an intriguing way to tell the story, it also made it difficult to relate to Kwong since his background can only be inferred, and not until later on in the film. For this reason, I personally had to watch the film more than once to fully understand Kwong's character.

The star of the film, Andy Lau, is one of the most successful actors in Hong Kong. Lau does a good job of playing the diverse age range required for this character. He has played such "young at heart" roles earlier in his career. And after more than 20 years in the business, he is still able to do so convincingly. Lau's performance in this film earned him a nomination for best actor at the Hong Kong Film Awards.

In addition to having a solid script, this movie is also sprinkled with various visual effects, some of which are reminicent of The Matrix. Although these effects were entertaining, they seemed a little out of place for a movie like this. However, they do go towards helping express how a young boy can exaggerate certain situations in his mind.

Unlike Big, Wait 'Til You're Older is definitely more of a drama than a comedy. There are humorous moments, especially when Kwomg first become an adult. But for the most part, it is a story about understanding, forgiveness, living each day to the fullest, and a young boy's journey to learn those concepts the hard way. With such reflective subject matters, this movie is heavy at times. But with its interesting characters and realistic view on human behavior, Wait 'Til You're Older is definitely worth seeing.