Bridge to Terabithia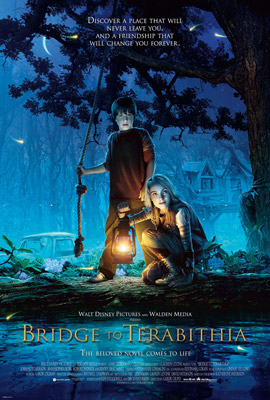 From its previews, I thiught this movie was about kids who go on an adventure in a magical land. Sort of like "the Goonies" meets "the Chronicles of Nardia." However, when it turned out more to be a family drama dealing with coming of age issues, I was disappointed. But in retrospect, compared to other films in that genre, Bridge to Tabithia was an enjoyable movie.

The movie begins with the introduction of Jess, a young man in middle school. Jess has always felt out of place, both at home and in school. He desperately seeks approval from his father, but he always seems to be too busy for Jess. And at school, he has trouble making friends and is often bullied. His one escape is his art. Jess always carries his notebook with him, which he fills with drawings from his imagination.

A new, spunky girl, Leslie, moves in next door and joins Jess' class. From her dress and attitude, you can tell Leslie is a free spirit and an independent thinker. She also, however, expresses a very artistic and imaginitive side with her writing. Because of these unconvential qualities, Leslie is also not very popular at school. But maybe that is why Leslie and Jess soon form a special friendship.

Jess and Leslie start spending their free time after school together. And on one of their afternoons, they discover a secluded area in the forrest. And thanks to Leslie's lead, they open their minds and create their own world there based on their imagination, Terabithia. They kept this place secret and started spending all their time there dreaming up different adventures.

The most interesting aspect about Terabithia is how Jess and Leslie use aspects from their real lives to form their adventures. This makes the story much more interesting than if they based their adventures on random ideas. But even more importantly, this approach gives the audience insight as to how Jess and Leslie feel about the things they are going through in real life, from Jess' disconnect with his father to the problems they are having with the school bully. It was great to see how they used Terabithia to work out their frustrations and express their feelings about the real world.

I would like to make a special note about Annasophia Robb, the actress who plays Leslie. She looked adorable in the film and presented the "spunkiness" in Leslie very well. She is one of the main highlights on the film.

As a fantasy and/or adventure story, Bridge to Terabithia is lacking. But as a family drama, I found it to be a thought-provoking story about what kids have to go through and how powerful their imaginations can be. So although this film may not be enjoyed by everyone, I would still recommend this movie, especially for the right audience.